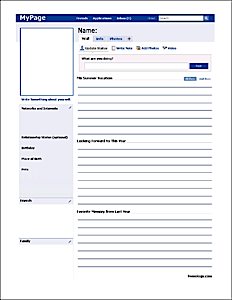 There are a lot of blank Facebook templates out there:
(Download FREE Facebook Template here)
http://www.teachone2one.com/teaching-with-technology/facebook-templatefor-education/
http://www.classtools.net/fb/home/page
Fakebook
: This online app is the best I have seen. It is web based and easy to use. Students fill in the blanks, upload pictures and write status updates for the different people on the wall. I have not yet used this app with students, but I plan on using it this week. Sometimes, when a bunch of students use an app like this, we see how good it really works. I'll be sure to let you know.
Last Day of School Facebook Template
http://anotherdayinfirstgrade.blogspot.ca/2011/05/facebook-firstgradebook-last-day-of.html
(Buy ready made Facebook Templates for various subjects here)
http://farcebook.us/index.php?div=ENG
Paper Bulletin Board Facebook Lesson
http://www.sciencenotebooking.blogspot.ca/2011/09/i-found-out-last-week-that-i-was.html